Thematic
Improved Material Solutions for Fire and Explosion Prevention 2024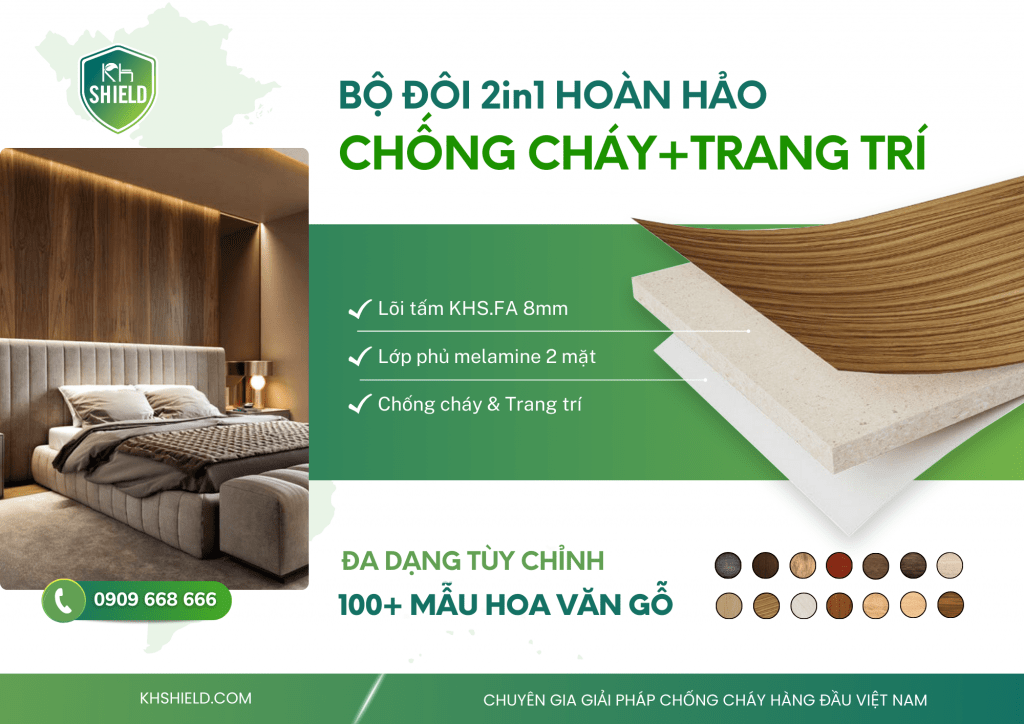 In Vietnam, the number of high-rise buildings is increasing, with stricter requirements for fire prevention and firefighting systems. However, the old standards for individual fire-resistant materials are no longer suitable; it has to be a system within the overall construction.
According to market surveys, various types of surface cladding materials for construction are being preferred by many enterprises, investors, and contractors. They are chosen not only for their fire-resistant properties but also for their high aesthetic appeal.
Fire-Resistant Melamine Decorative Panels – 'Green Building Materials'
Material experts in Vietnam have researched and introduced a 2-in-1 material that offers optimal fire resistance while allowing for decorative applications: KHS.FAM panels – meeting the CV0 standard for smoke and toxicity. They come in over 100 eye-catching wood-patterned decorative designs, providing up to 4 hours of fire resistance and effective moisture resistance.
The green technology FireShieldPRO® has created the KHS.FAM fire-resistant panels using agricultural waste, fiberglass mesh, and bonding agents. This approach inherits outstanding advantages such as environmental friendliness, limitless recyclability, resistance to environmental changes, and superior fire resistance.
Prominent projects in Vietnam that have adopted this solution include The Metropole Thủ Thiêm – Ho Chi Minh City, The River Thủ Thiêm, Intel Vietnam Factory, Hiive Hotel Bình Dương, Sol Forest CT04 Ecopark Hưng Yên, various restaurant chains, karaoke lounges across Vietnam, atc."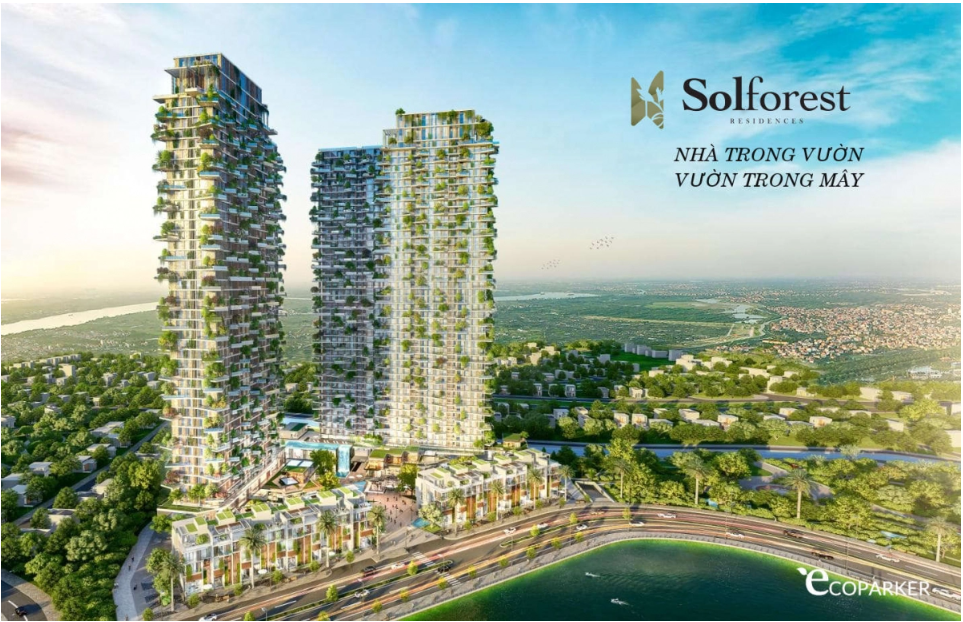 Sol Forest CT04 Ecopark Hung Yen
The Metropole Thu Thiem – Ho Chi Minh City
Is it true that a fire-resistant solution for fabric and wood materials can simply be applied or soaked?
In the final months of the year and during the holiday season, ensuring safety from the risk of fire and explosions becomes even more crucial. Especially in communal spaces such as theaters, karaoke rooms, production workshops, residential areas, offices – places where many people gather are often at a high risk of fire and are the most dangerous because the materials commonly used for interior decoration, wood, soundproofing, and flammable materials like foam, rubber, curtains, fabric, carpets, etc. These types of materials burn quickly and emit toxic fumes.
After its introduction, the MFL & FFL fire-resistant solution has been evaluated by investors and contractors as an optimal solution for wood and fabric materials. With its water-based, transparent, odorless, safe, and environmentally friendly fire-resistant properties, the product provides stability and safety for fire protection needs for materials. So, what are the characteristics of this solution?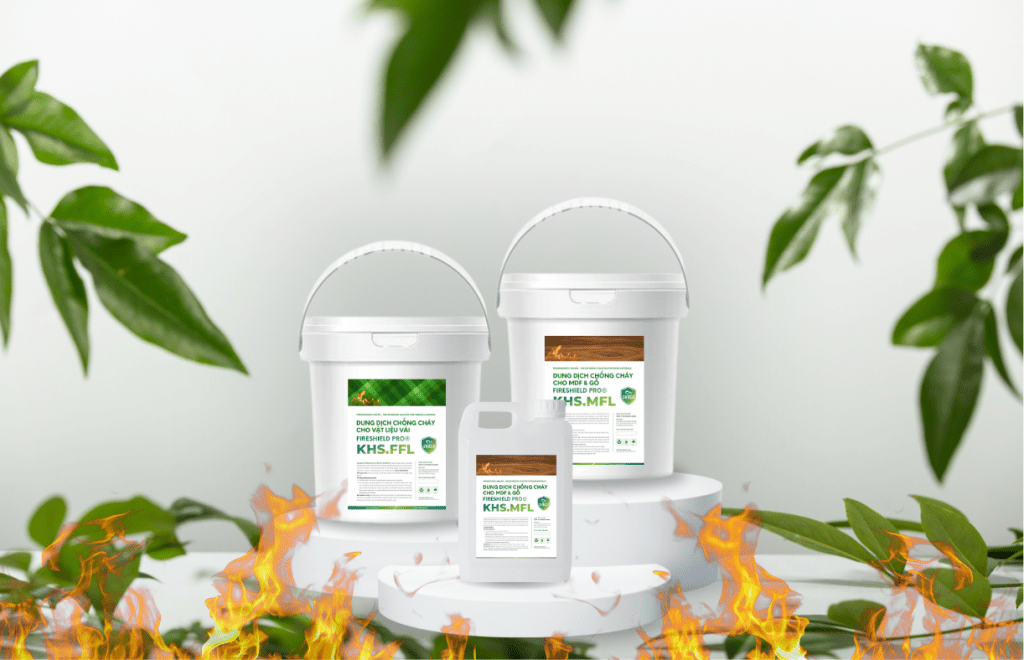 The KHS.FFL fire-resistant solution is applied to fireproof various types of fabrics, curtains, and carpets. It is a solution applied to the fabric surface that can prevent the spread of fire or make it non-flammable when in direct contact with flames. In particular, it transforms regular materials into fire-resistant materials with a simple process of soaking, spraying, and natural drying.
The KHS.MFL fire-resistant solution is designed for wood materials, decorative furniture made of rattan, bamboo, and cellulose-based products such as MDF, Plywood, OSB, etc. After being treated with KHS.MFL solution, the material's surface in contact with fire is carbonized, making it non-flammable, without emitting toxic smoke, preventing fire spread, and meeting fire resistance standards. After drying, the surface can be painted or laminated with melamine, without affecting its fire-resistant properties.
KHS.MFL & KHS.FFL Fire-Resistant Solutions – Convenient and Effective for Wood and Fabric Materials
After thorough testing and inspection, these products have been proven to be efficient and safe solutions for protecting fabric materials from the risk of spreading fire, effectively extinguishing large fires, ensuring high safety standards, and meeting all fire safety certification standards.
These solutions not only prevent sudden outbreaks of fire but also, in the event of a fire, slow down the fire propagation process and increase the time for safe evacuation. They are a suitable choice for various types of projects, from residential buildings and offices to industrial workshops, commercial centers, and cinemas.
Ensuring fire safety in business operations
KH Shield, as a leading fire protection solution expert in Vietnam, provides complete peace of mind and absolute confidence to its customers. With maximum support services, superior quality products, comprehensive solutions, KH Shield helps customers manage risks and overcome fire safety challenges.
KHS fire-resistant products are outstanding and currently distributed in Vietnam by KH Shield. Visit the website for more detailed information or contact the hotline at 0909 668 666 for consultation and support. Register for consultation
Consultation on fire and explosion prevention solutions