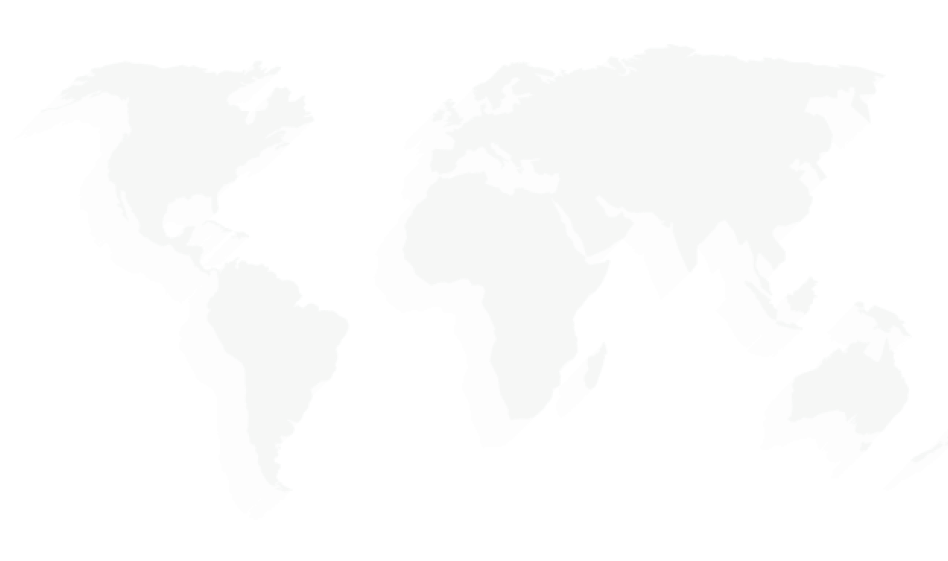 TECHNOLOGY FOR THE VIETNAMESE
KH Shield, positioned as a leading expert in fire prevention solutions in Vietnam, brings complete peace of mind and reliability through maximum support services, superior quality products, comprehensive solutions, helping customers manage fire and explosion risks, and overcome challenges in fire prevention and firefighting.
The distinctive FireShieldPRO® technology has created KH Shield panels that are non-flammable, smokeless, non-toxic, non-destructive, and non-corrosive to metals. Utilizing agricultural byproducts from Vietnam, natural minerals, glass fiber mesh, and binding agents, the KH Shield team has researched and manufactured a superior product that can be infinitely recycled, entirely environmentally friendly. It is a precise and trustworthy choice for investors aiming for sustainable green values. We take pride in FireShieldPRO®, a technology by Vietnamese, innovating for the Vietnamese people.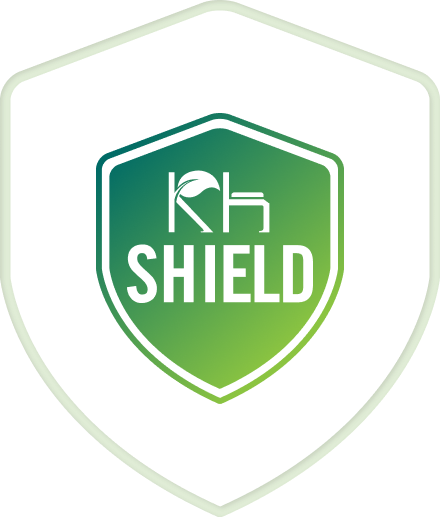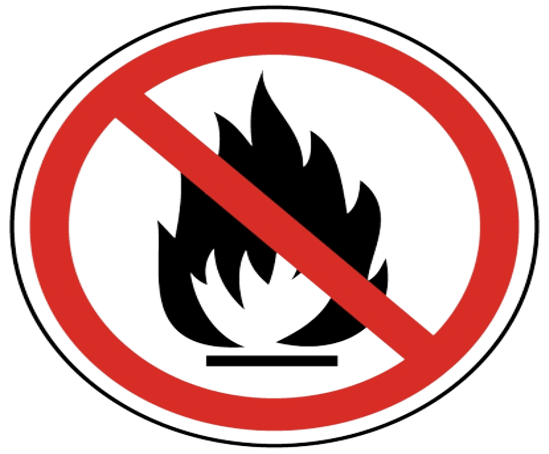 Non flammable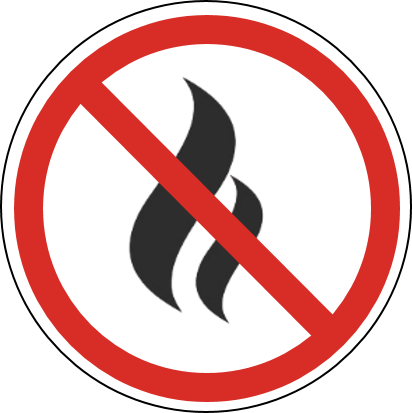 Non smoke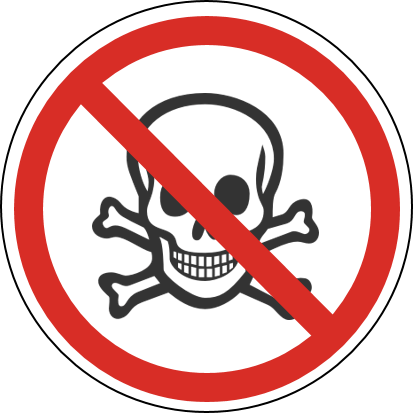 Non toxic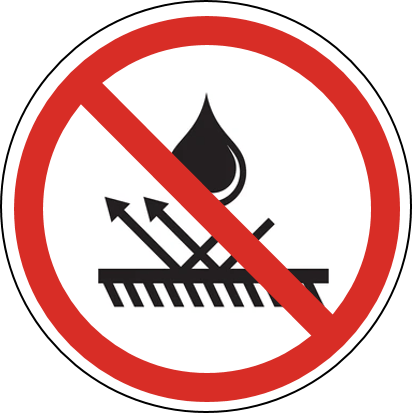 Non corrosive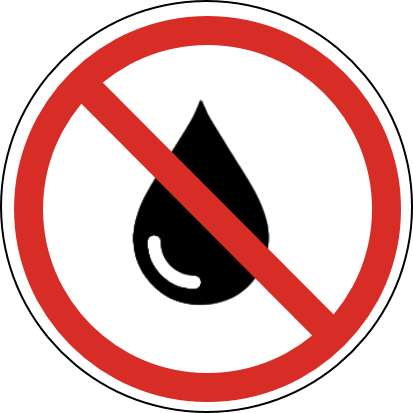 Non hygroscopic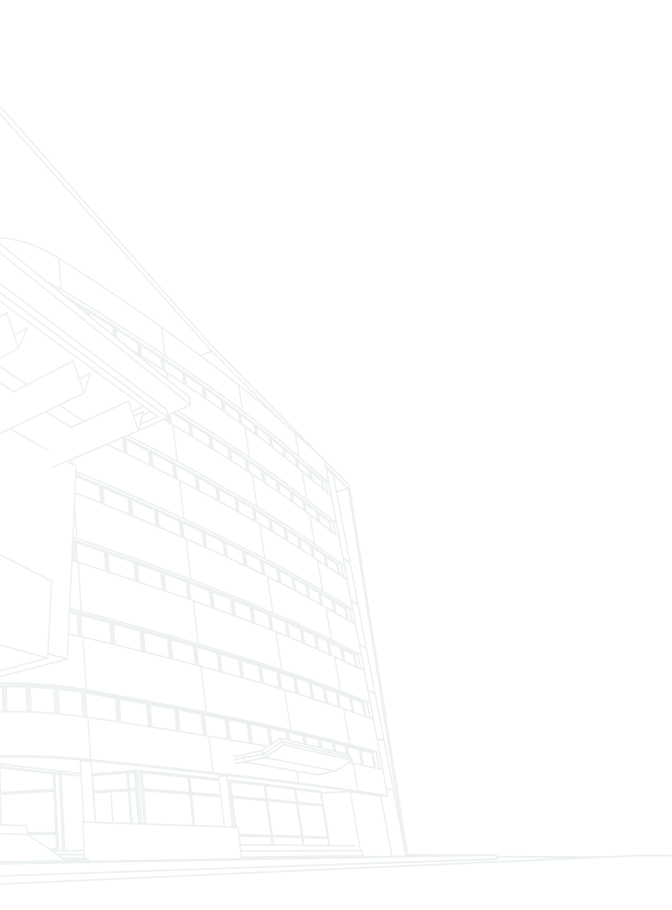 All
FireshieldPRO Insulation Panel
FireshieldPRO Fire Retardant Sheet
Fire Retardant Solution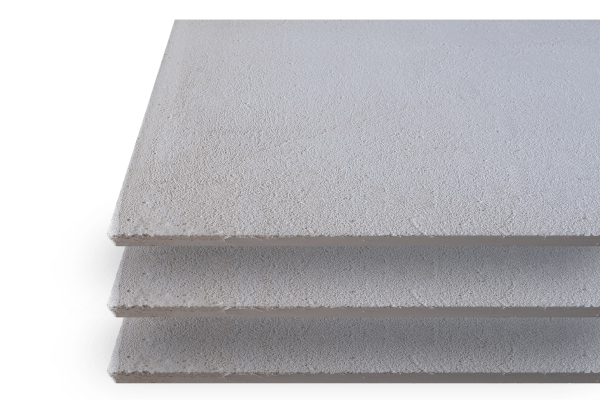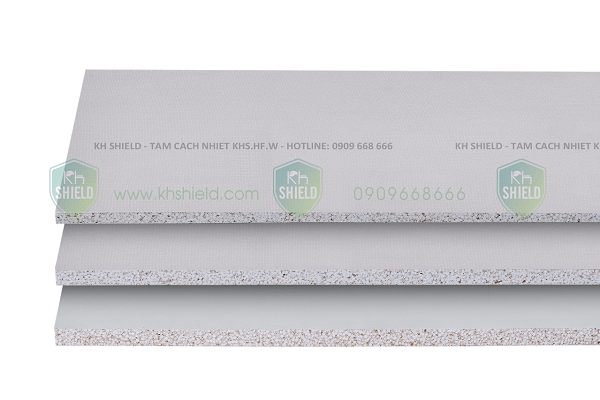 KHS.HF.W – Insulation Panel FireshieldPRO
FireshieldPRO KHS.HF.W Insulation Panel with the ability to slow down heat conduction and sound insulation, lightweight, easy to install, suitable for use as the core of fire-resistant and insulation products.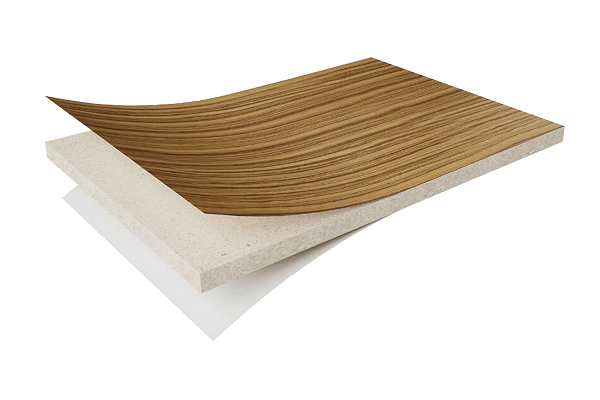 KHS.FAM – FIRE-RESISTANT DECORATIVE MELAMINE COATED FLOOR UNDERLAY KHS.FAM
The KHS.FAM fire-resistant floor covering panel is a specialized solution for fire prevention and insulation, providing decorative finishing for floors in areas such as waiting lounges, hallways, emergency exits, etc. This product meets CV0 standards for smoke and toxicity, inheriting all the excellent fire-resistant features of FireShieldPRO® technology. There are now over 100 eye-catching wood grain decorative patterns available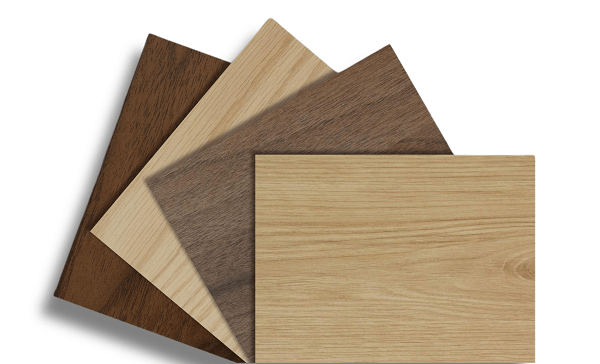 KHS.FAM – Fire-Resistant Decorative Melamine Panel FireshieldPRO
KHS.FAM fireproof panels are a specialized solution for preventing fire, insulating, finishing decoration for walls such as lobby areas, corridors, emergency exits, etc. The product meets CV0 standards for smoke and toxicity, Inheriting all the excellent fire protection features of FireShieldPRO® technology, there are now more than 100 eye-catching wood grain decorative patterns.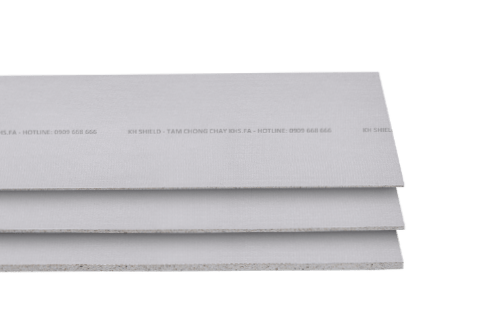 KHS.FA – Fire-resistant panel FireshieldPRO
FireshieldPRO KHS.FA fire-resistant panel with the effective fire retardant capability for up to 4 hours, non-combustible for continuous 6 hours under direct flame exposure up to 1000 degrees Celsius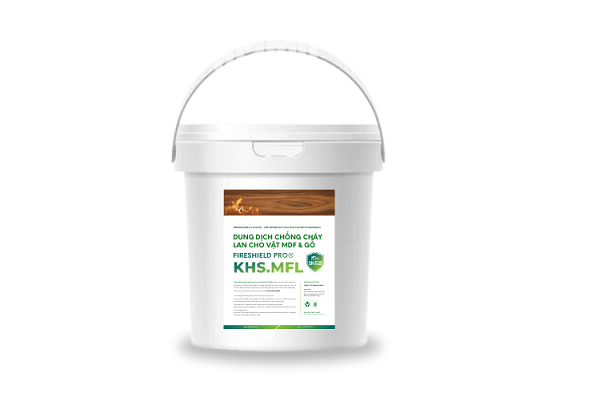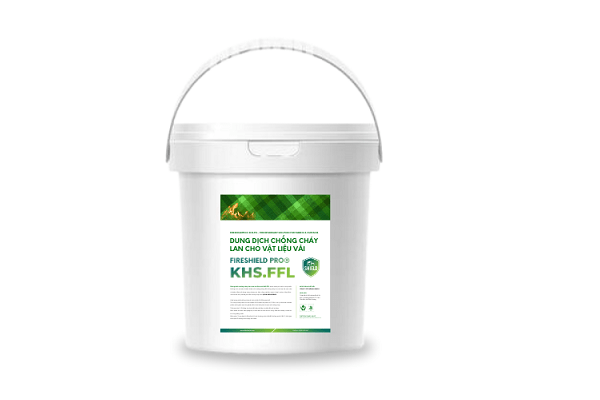 KHS.FFL – Fire-Resistant Liquid For Fabric And Curtains
KHS FFL – A water-based fire-retardant solution, transparent, odorless, safe, and environmentally friendly, used to provide fire resistance for various types of fabrics, curtains, and carpets. It does not affect the fabric's texture, carpets, and washability. Non-toxic and non-irritating to the skin. FIRE AND INSULATION PREVENTION SOLUTION KH Shield is proud to achieve
QUALITY CERTIFICATION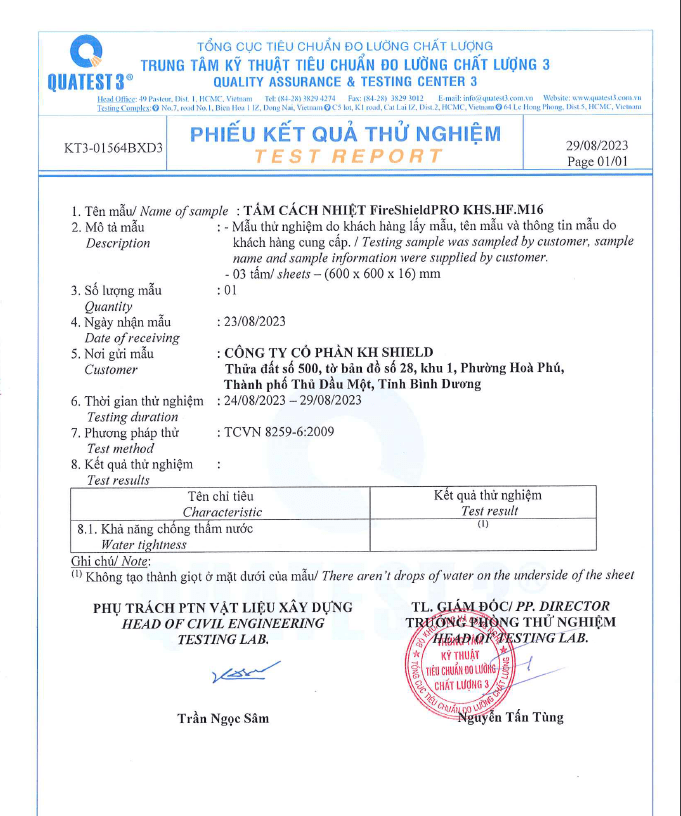 TEST RESULTS SHEET FOR WATERPROOF INSULATION PANEL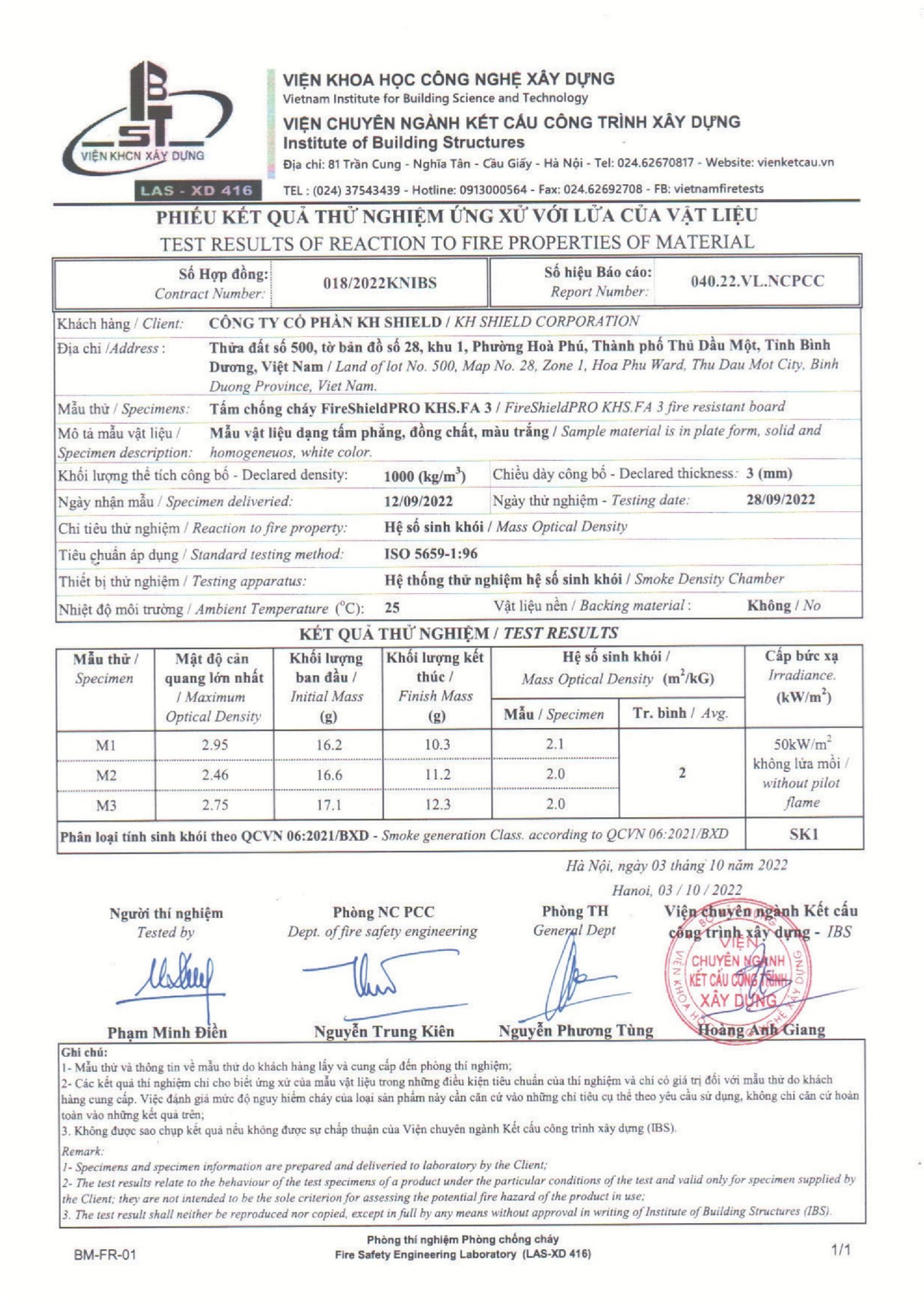 NON-TOXIC WASTE TEST RESULT SHEET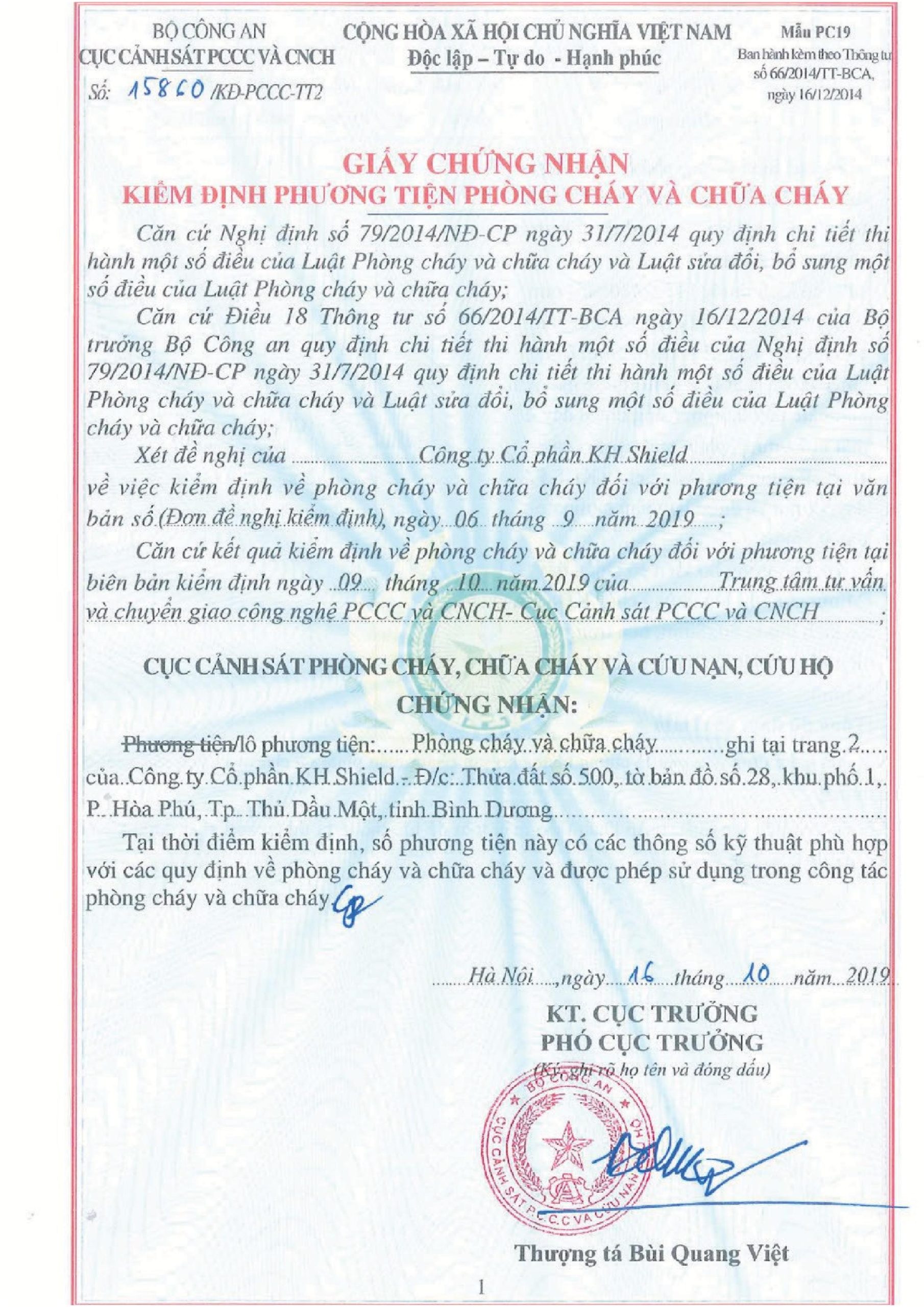 CERTIFICATE OF FIRE FIGHTING VEHICLE ASSESSMENT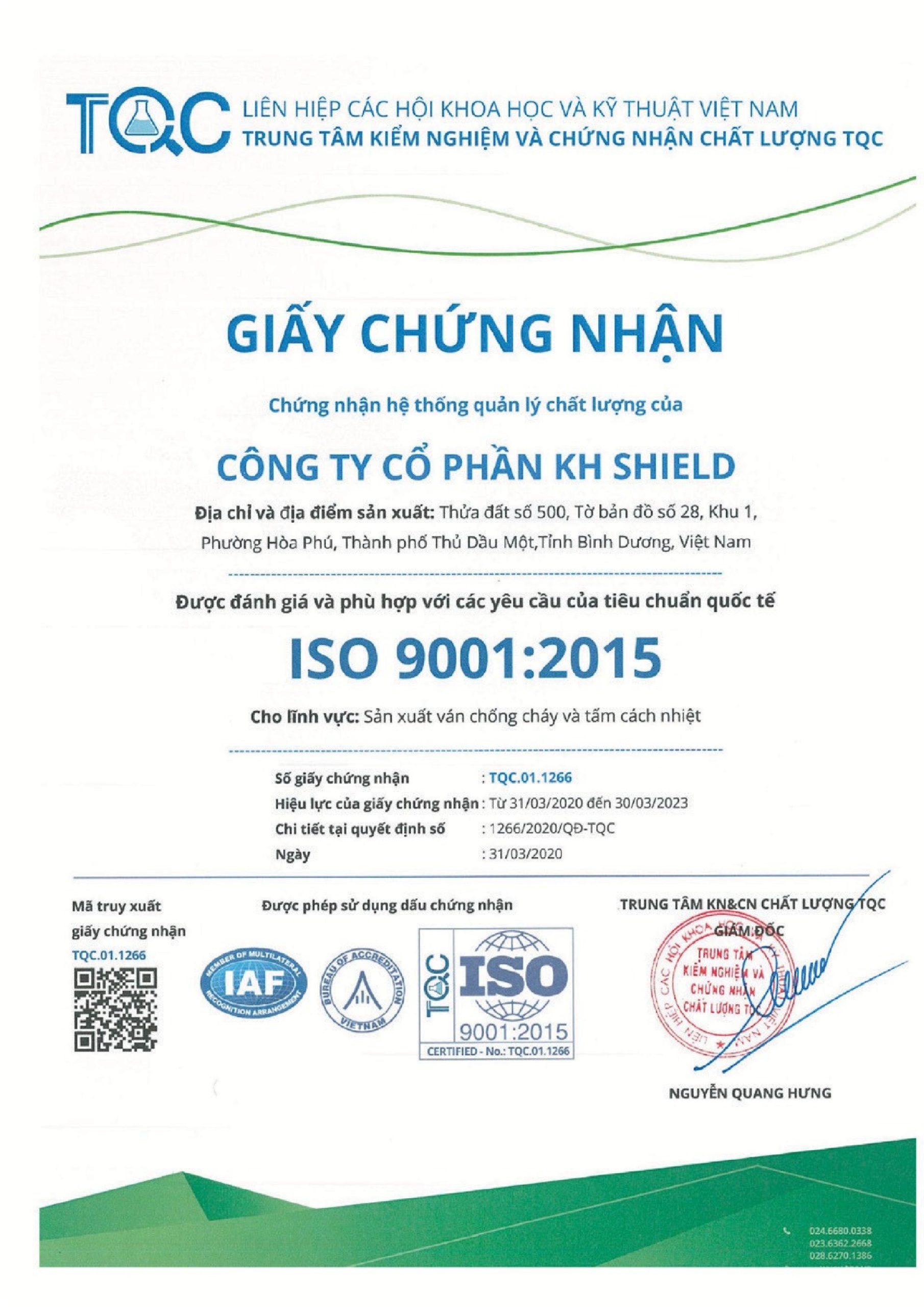 CERTIFICATE OF ISO 9001:2015 MANAGEMENT SYSTEM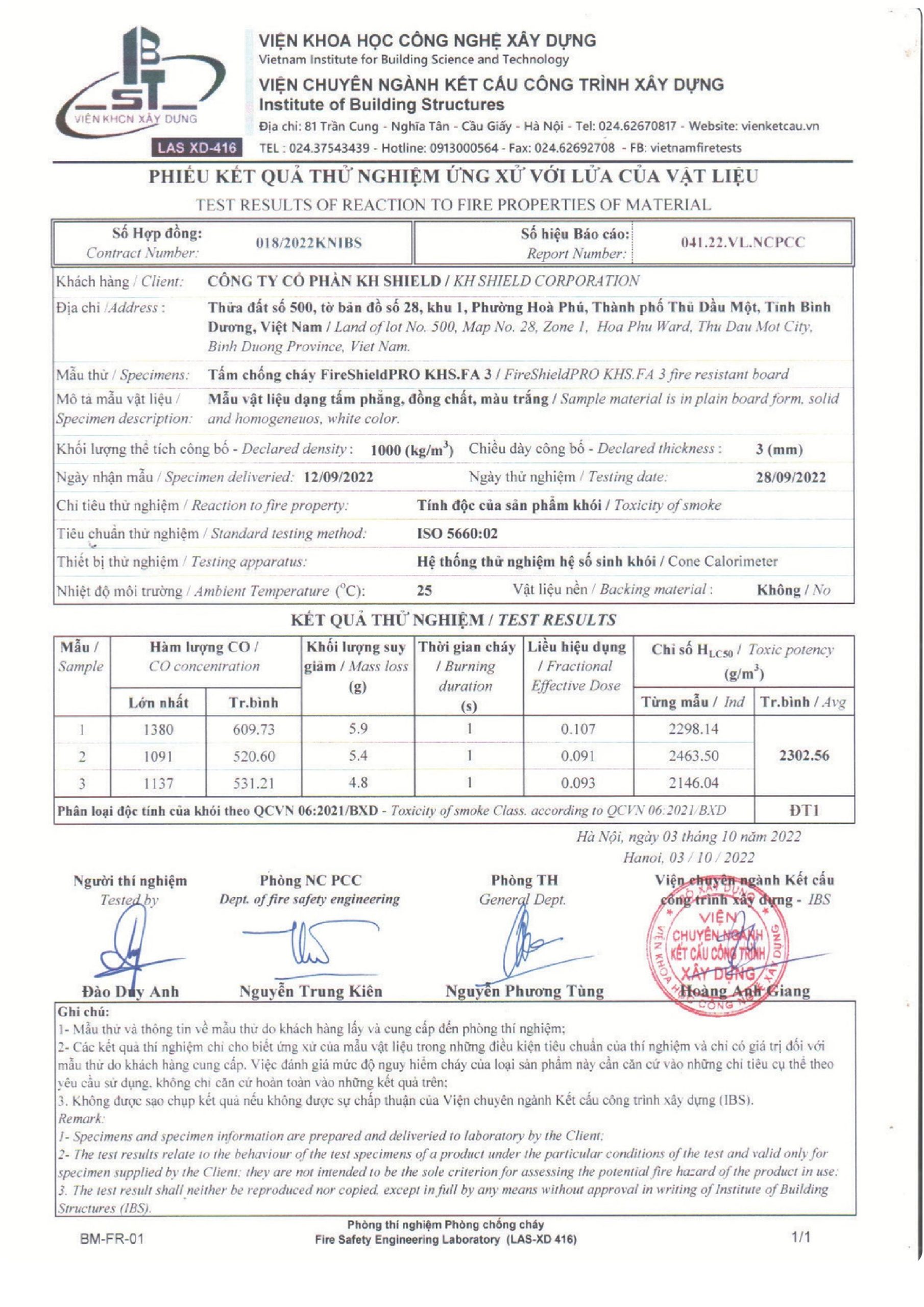 TEST RESULTS FOR FIRE BEHAVIOR OF KHS.FA 3mm MATERIAL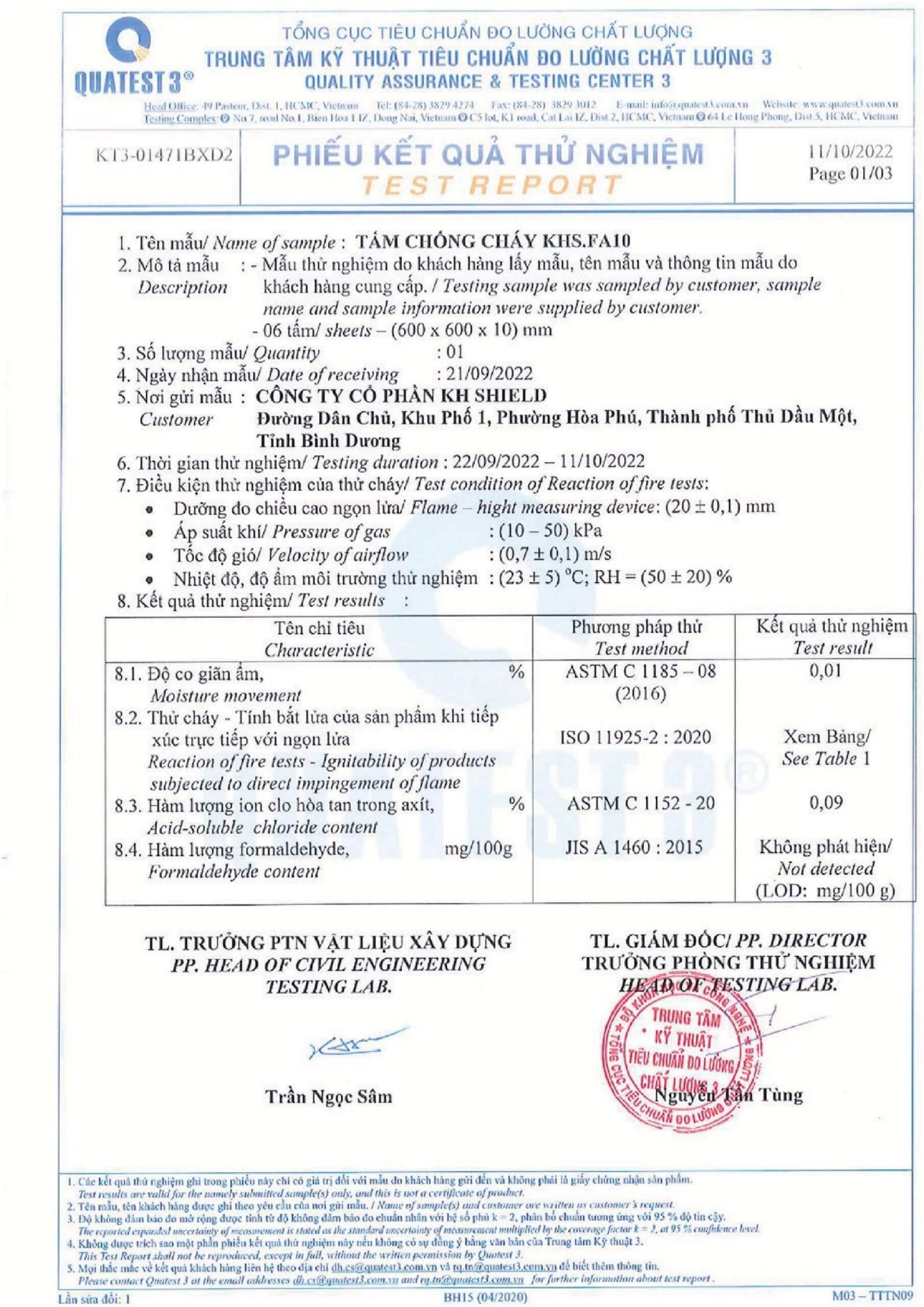 FIRE RESISTANT PANEL TEST RESULT FORM KHS.FA 10mm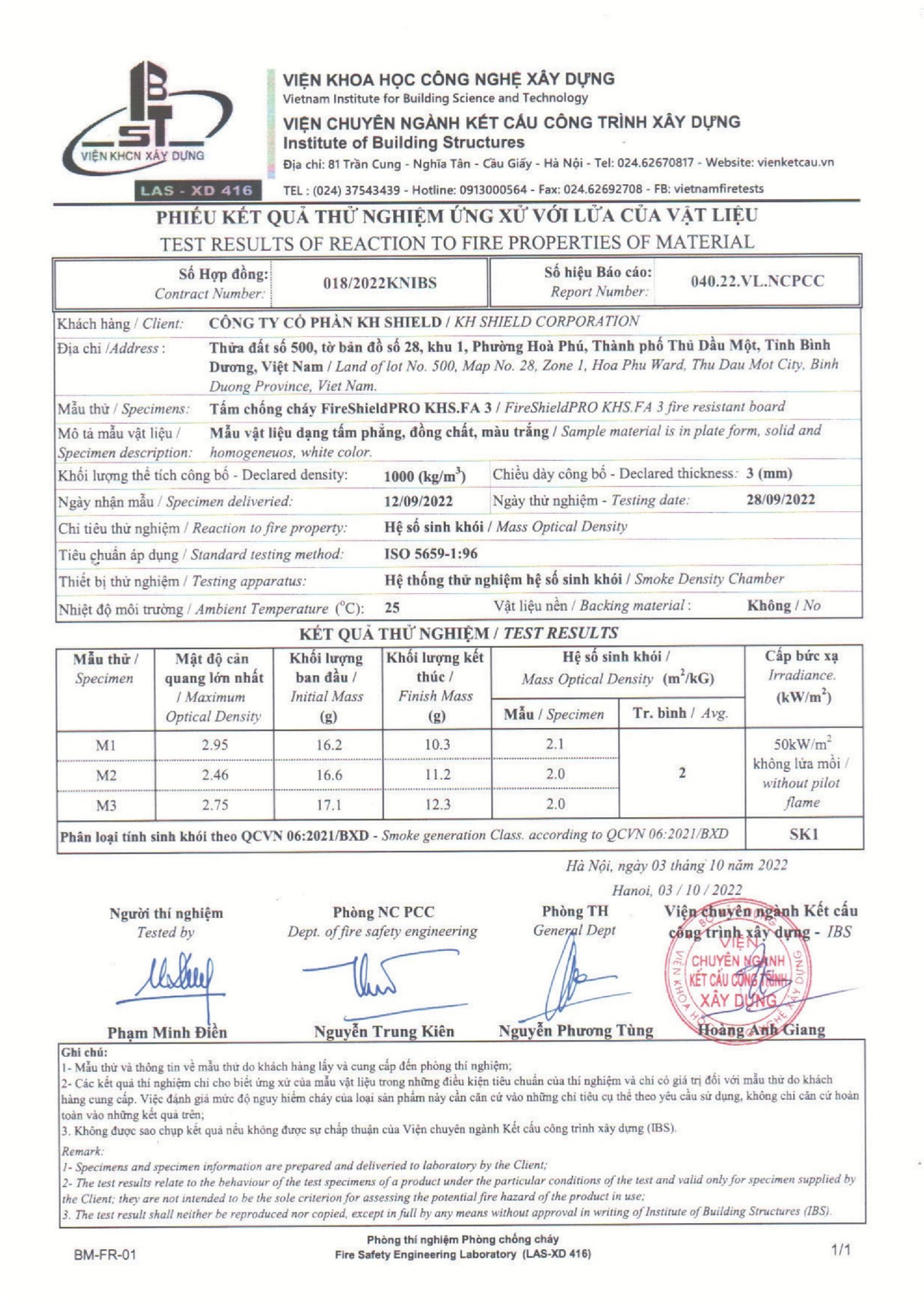 FIRE BEHAVIOR TEST RESULT FORM FOR KHS.FA 3mm FIRE RESISTANT PANEL
Trusted Strategic Partners
KH Shield Joint Stock Company was established in 2018, specializing in the production of fire-resistant and insulation panels in the field of fire prevention and firefighting. KH Shield aims to supply Fire-Resistant Panels and Insulation Panels to both the domestic and export markets, contributing significantly to enhancing fire and explosion safety within the Firefighting sector.

KH Shield Joint Stock Company is a reliable partner for manufacturers of fire prevention and insulation products, providing superior solutions that create distinctive value for each manufacturing enterprise. Collaborate with us for efficient business operations, risk mitigation, optimized performance, and sustainable development
Projects that have trusted KH Shield
Specialized topic on fire prevention and insulation solutions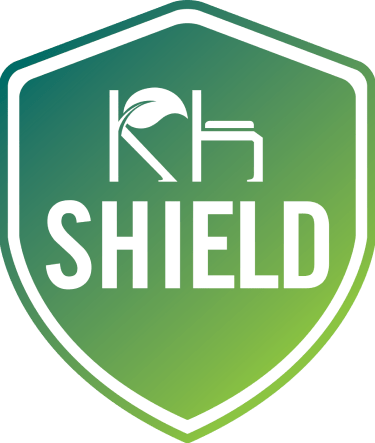 The leading fire protection solutions expert in Vietnam Register for consultation
Consultation on fire and explosion prevention solutions