Thematic
KH SHIELD MATERIAL IS ONE OF 7 PRIORITY MATERIAL GROUPS IN MATERIAL TECHNOLOGY!
Scientists create nano materials, 3D printing, optoelectronics, flame-resistant, and antimicrobial materials… are prioritized for research funding under program KC02.
The information was provided by Prof. Nguyen Quang Liem, Head of the Research Program for the Application and Development of Materials Technology (KC02), during a seminar titled "Identifying Needs and Capabilities for Material Technology in the Southern Region" held in Ho Chi Minh City on the afternoon of October 20. The conference was organized by the State-level Office for Science and Technology Programs (Ministry of Science and Technology) to outline the program framework and the research areas that will receive priority funding for the 2021-2030 period.
During the 2016-2020 period, the KC02 program carried out 29 research projects and 5 pilot production projects. The total budget allocated was over 348 billion VND, with approximately 187 billion VND coming from the state budget and another 227 billion VND from other sources.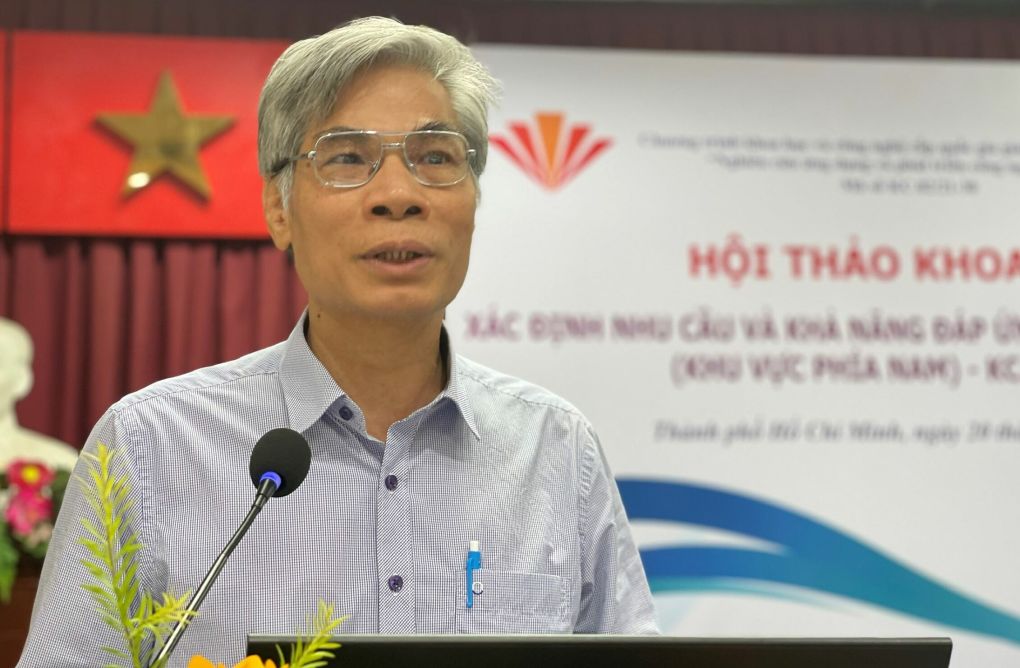 Prof. Nguyen Quang Liem shared the research direction for material technology in the KC02 program on the afternoon of October 20. Photo: Ha An.
According to Professor Liem, in the upcoming phase, there are 7 technology material product groups encouraged for research and funding support. Specifically, the KC02 program encourages research into the development of advanced materials such as nano materials, 3D printing, optoelectronics, shape-memory materials…
For this group, Professor Liem believes that advanced materials, when implemented, will bring significant economic surplus compared to traditional materials currently in use. Materials with special properties such as high-purity special alloys, high-hardness materials, heat-resistant materials, wear-resistant materials, rare earth materials, durable composites, flame-resistant materials, UV-resistant materials, antimicrobial materials, etc., are also encouraged. According to Professor Liem, when materials with special properties are applied, it reduces dependence on foreign sources and offers high value.
The newly targeted research material groups include metals, alloys; materials used in the chemical, paint, and fertilizer industries; synthetic leather, leather materials; biomedical materials; energy storage and conversion materials; construction materials, environmental pollution treatment materials. Additionally, scientists are encouraged to research materials made from economically efficient natural resources.
The KC02 program commissions research into production equipment and processes for the creation of new materials and products made from these new materials. Scientists are encouraged to develop manufacturing processes for these new materials and create design documentation for various new material types.
Assoc. Prof. Dr. Tran Do Dat, Deputy Director of the State-level Office for Key Programs (Ministry of Science and Technology), stated that the current regulations aim to encourage scientists and businesses to actively propose research projects. When the review board includes a project in its list, the participating individuals and organizations receive extra points for selection. Moreover, administrative procedures for project execution have been streamlined to facilitate scientific research. Projects that involve business collaboration and practical application receive higher evaluation scores due to their persuasive real-world implementation. Register for consultation
Consultation on fire and explosion prevention solutions